My Roles:
Product Designer
Tools:

Adobe XD
Teammate:
Aaron Kim
Project Year:
2020
Adobe Creative Jam, in partnership with the Chan Zuckerberg Foundation, challenged professional designers to design a digital experience that would provide stability and protect the livelihoods of farmworkers. The goal is to create an app for the fictious International Consortium of Farm Workers organization (ICFW) that would make it easy for farmworkers to verify their identity, sign up for services like legal aid, healthcare, housing aid, counseling, food distribution, and get access to timely and credible information.
The Problem

Farmworkers are the invisible frontline labor force of a country's food supply. Sadly, many of them — the vast majority being immigrants— do not qualify for government stimulus packages during the pandemic. Getting access to safety net services like legal aid, healthcare, housing aid, counseling, and food distribution is very crucial. However, COVID-19 shelter-in-place restrictions have made this increasingly difficult, because gaining access to these services typically requires an in-person meeting to verify identity when signing up. This ultimately leaves farm workers without support when they need it most.



The Challenge

• The app needs to make it easy for farmworkers to verify their identity, sign up for services like legal aid, healthcare, housing aid, counseling, food distribution, and get access to timely and credible information.
• Some farmworkers may not read or speak English, so the user experience should be effortless to understand and design with accessibility in mind.
• Most farmworkers fear giving out information. Not only the verification process needs to be easy, it also needs to look and feel trustworthy.
• Create a community to connect farmworkers and keep them engaged.
• The primary functions should be immediately feasible and implementable.
• We were given roughly 36 hours to ideate, design, create, and deliver a high-fidelity prototype.



Challenge Accepted!
The Process

We kicked off the project by doing a quick research on farmworkers in America, identifying their pain points, and conducting competitve analysis. Since Aaron and I were working together remotely, we used Miro to ideate and brainstorm. We then did a card sorting exercise to group the ideas we have for features into buckets. Finally, we split up the task - I started working on the overall flow, navigation, and wireframes while Aaron established the visual design and UI componant.




Key Findings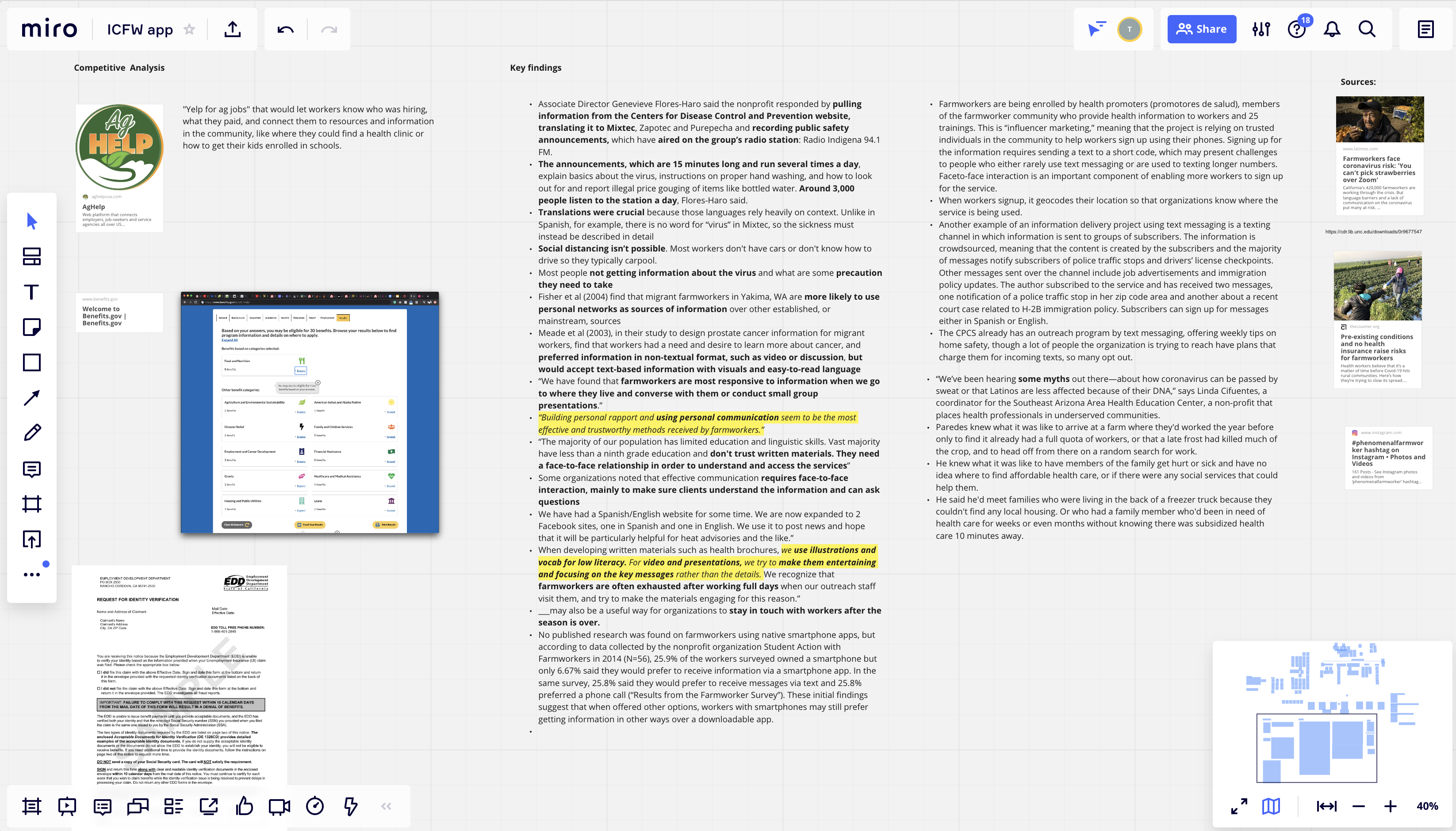 Card Sorting
Wireframes

Let's Take a Look at the Key Features
With what we learned from our quick research, we came up with the key features that would make our app stands out and, most importantly, be useful for farmworkers.




︎ Creating an accesible and inclusive experience for our farmworkers

To cater toward low literacy and multilingual audiences, we provide the ability to choose preferred language up front. We include the most common spoken languages among farmworkers in the US in the initial load but also provide a way to choose other languages in just one click. This way, we don't overload the user with too many options at once. We also make sure that the app relies heavily on visual (illustrations, icons, color) and easy-to-read language so that farmworkers understand and able to access the services they need in a timely manner.



︎ Giving a friendly voice that guides farmworkers throughout the whole experience


Right when farmworkers open the app, they will be greeted by Eve, a helpful chatbot, who can help them get started and set-up. From our research, we found that face-to-face interaction and personal communication tend to be the most effective and trustworthy methods received by farmworkers. Having Eve guides them through the process and available anytime they need help would feel like getting help from an actual person. If they can't find what they are looking for, they can just tap Eve and type in a keyword. Eve will provide a few suggestions as well as offer to connect them with a representative if they need further assistance.

︎ Personalized & Easily Digestible Content

With the amount of information and resources out there, farmworkers can easily feel overwhelmed and lose interest in finding the right info and resources they actually need. Not only we present the news and contents that are most relevant to them (based on their location) up top, we also provide an option to select their interests so their feed can be customized to fit their need even more.

Farmworkers are often exhausted after working full days. They want to focus on key messages rather than details. So we include "Daily Tips" section as a way for farmworkers to learn about health related information using fun visual design and short, easy-to-read copy.

Another area that made our app stands out is the "Myth or Fact" feature which is an interactive game to learn and test their knowledge about COVID-19. We got this idea after reading about how there are some myths out there that being told among farmworkers that "coronavirus can be passed by sweat or that Latinos are less affected because of their DNA". We thought turning learning into a game would keep farmworkers engaged and encourage them to keep coming back to the app!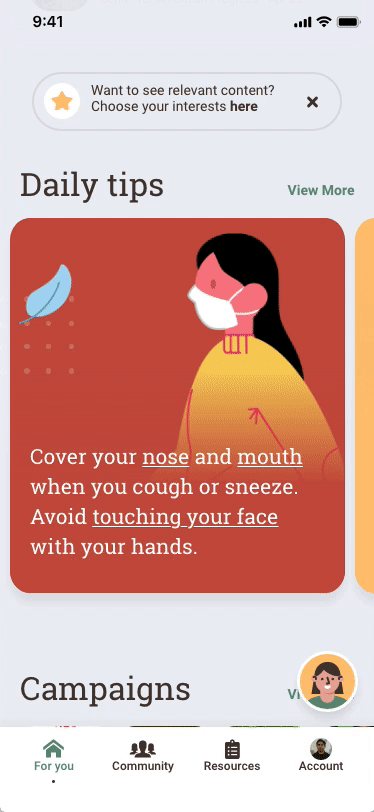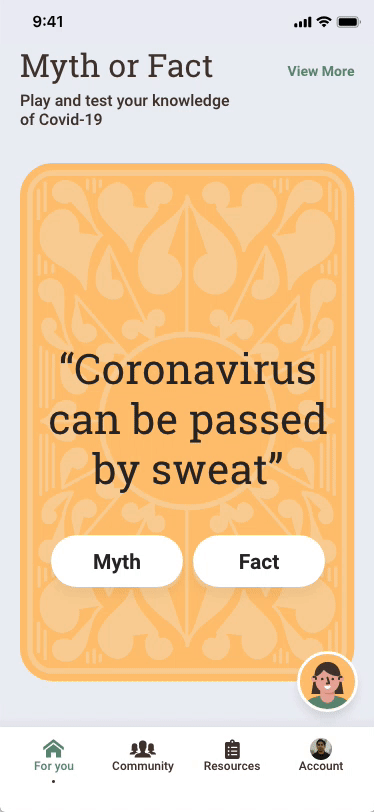 ︎ Keeping farmworkers informed, safe, and connected through trusting community

During our research, we found that many farmworkers are more likely to use personal networks as sources of information over other established, or mainstream, sources. So we include Community as one of the main features, dedicates to a topic or experience that is driven by the farmworkers who share similar interests and experiences. Farmworkers and find/share things like unemployment insights from fellow farmworkers, job available in their areas, food distribution updates, pro-bono attorney services, etc.



︎ Finding the right Resources

Finding resources can be overwhelming. Our Resource page serves up benefits that are most relevant to farmworkers and that they may be eligible for. We also group all the resources together into easy-to-digest categories. In each of the resource detail page, there is a section that allows farmworkers to check their eligibility instantly by answering a few simple questions. This way, farmworkers may be able to save times instead of having to do any further reading, calling someone to ask, or physically going to an office.



︎ Verify and store neccessary documents

One of the main goals of the app is to make it easy for farmworkers to verify their identity since typically that is required to gain access to safety net services. The verified documents are stored and easily accessible under "My Documents" page. There is also a section that contains recommended documents (based on their info, interests, and location) that are usually required to sign up for services - so that they have everything ready and help speed up the application process.




72 Hours Later...

The Outcome
The amount of time we had for this project and the constraints was a great challenge and learning moment. Conducting researches, brainstorming ideas, rapid wireframing and prototyping - not to mention we had to learn to use Adobe XD for the first time - all done in 3 days (yes, we did have 2 hours of sleep on the final night :D) I feel like I learned so much and sharperned many skills that I would not normally have had the opportunity to do in an everyday work setting.
🎉 Our app also
won 3rd place
against 300 professional designers, 90 projects submitted, across US, Canada, and UK!